–Christopher Turner in conversation with Simon Schaffer on the absolutist promise of perpetual motion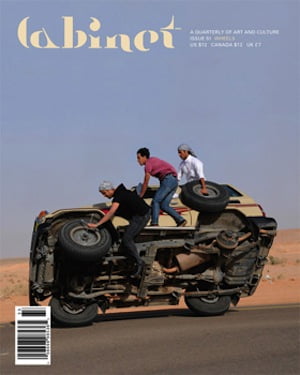 –Suzanne Karr Schmidt on volvelles, the paper wheels used in early modern computation
–D. Graham Burnett on hubcap "spinners" and the automotive unleashing of blur
–Jeff Dolven in conversation with John V. Fleming on wheels of fortune
–Plus: the pneumatic birth of the Michelin Man; the story of how the Indian flag traded its spinning wheel for a chakra; the wheeled figurines of the supposedly wheel-less societies of pre-Columbian Mesoamerica; and the sixteenth-century bookwheel of Agostino Ramelli.
–Sasha Archibald on Max Factor and the invention of modern cosmetics
–The first English translation of Andrei Platonov's "Anti-Sexus," introduced by Aaron Schuster
–Susan Zieger on the cigarette card as a technology of knowledge
–Merry White on coffee culture in Japan
–Wayne Koestenbaum's new "Legend" column
–Robert Antoni on the unhappy fate of John Adophus Etzler's tropical utopia
–Carol Mavor on aquamarine
–An anonymous text from the Occupy Wall Street movement
–Plus: artist projects by Edmund Clark, Jill Magid, Luis Molina-Pantin, and Karen Yama
Cabinet can be purchased through its website, as well as independent bookstores across the US and at chains such as Barnes & Noble, Hudson News, and Universal News. The magazine is also available in Canada, the UK, and more than twenty other countries around the world. A partial list of retailers worldwide can be found here.
Cabinet is published by Immaterial Incorporated, a non-profit 501(c)(3) organization. Cabinet receives generous support from the Lambent Foundation, the Orphiflamme Foundation, the New York State Council on the Arts, the New York City Department of Cultural Affairs, the Warhol Foundation, the National Endowment for the Arts, the Danielson Foundation, the Katchadourian Family Foundation, Goldman Sachs Gives, and many individuals.